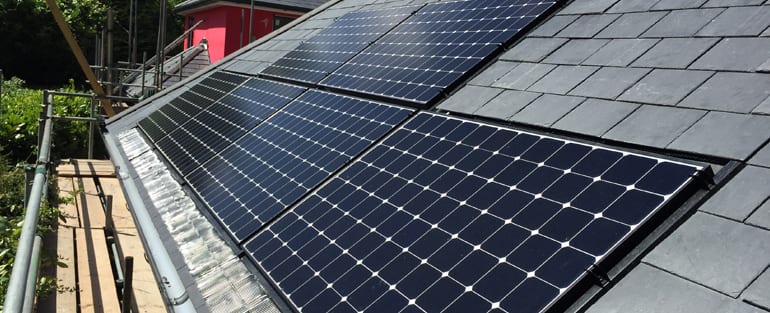 Solar Panels:Ben Q SunForte 330W Monocrystalline
Inverter:Growatt 2000 single MPPT
System Size: 1.98 kWp
Amount of Electricity Produced in a Year: 1521 kWh's
Annual Co2 Saving: 654 kg
Location of Solar Installation: Chichester, West Sussex.
We have recently installed a small Solar PV system, for a customer on their garage roof in Chichester. The client searched for a solar panel company in Chichester to install the system and found us. Energy Creation have installed plenty of in-roof solar panel systems.
We have used the GSE integrated system, allowing the panels to be set down within the depth of the roof slates. This produces a much nicer finish, but more importantly, on new builds, it allows the panels to be installed independently of the roofing trades. This improves the efficiency of the build programme.
Our experienced Solar panel installers liaised with the roofing team, and were able to get a seamless integration that produced an attractive finish.
By using the High power BenQ panels we were able to increase the production per M2 by 32%, making the most of a limited space.
We were able to install the inverter (the bit that converts the DC electricity into AC electricity, ready for use in the home) in the garage making the cable route from the panels nice and short.
Solar panel Company Chichester
If you are looking for a Solar panel Company in and around Chichester, West Sussex then Contact us. Energy creation operate in and around the area of Chichester going as far as Hampshire, West Sussex, Kent and London. We work in both the domestic and commercial market installing solar panels to rooftops of upto 1MW (4000 solar panels).